創校歷史 The Early Years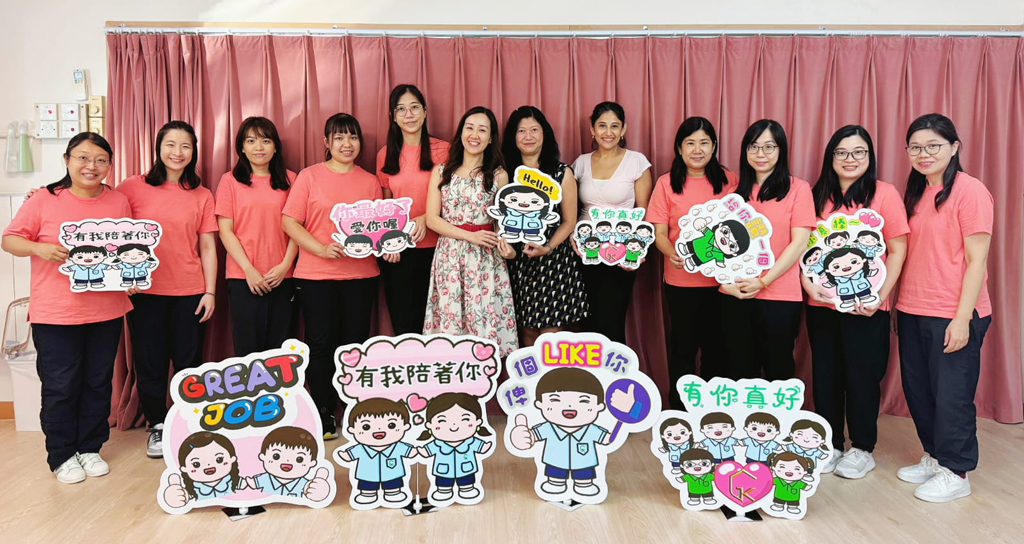 1984年8月,我們一群教育工作者深明啟蒙幼童的重要性,本著對教育的熱誠和愛,創立了嘉言中英文幼稚園;目標要為幼童創建一個愉快、健康和關愛的學習環境,發展幼童全人教育。我們的校名「Greenville」取意綠色、健康和活力,「嘉言」乃取自嘉言懿行,言行優雅,表裡如一;我們期望在這裡受教育的孩子,可以在一個美好純真的環境下快樂成長。2007年12月是本校劃時代的一年,董事局決定成立嘉言教育機構,以慈善團體模式辦學;為學童提供更優質的學前教育服務,回饋持份者多年來對我們的支持。我們由獨立幼稚園轉為非牟利幼稚園後,幼童得以享受學前資助計劃帶來的福利,家長亦可舒緩應付教育開支的壓力。
多年來我們都堅守以兩文三語為基礎,不斷優化校本課程,啟發幼童潛能,培養良善德性,提升他們的創造和探索能力;為未來升讀小學奠下良好基石。未來日子,我們仍會堅守信念,竭盡所能,以「愛」啟迪幼童,為學前教育獻出一份熱和光。
In August 1984, our group of educators understood the importance of enlightening young children. Based on our enthusiasm and love for education, we established Greenville Anglo-Chinese Kindergarten, the goal is to create a happy, healthy and caring learning environment for children and develop holistic education for young children. Our school name "Greenville" is based on greenness, health and vitality. Greenville's performance is derived from wise, noble and elegant words which is same as inside and outside. We hope that children educated here can grow up happily with a beautiful and innocent environment. December 2007 was an epoch-making year for our school. The board of directors decided to establish the Greenville Educational Institution to run the school as a charitable organization; provide better quality pre-school education services for children and give back to our stakeholders for their support over the years. After we switched from a standalone kindergarten to a non-profit-making kindergarten, children can enjoy the benefits of the pre-school subsidy scheme, and parents can also relieve the pressure of coping with education expenses.
Over the years, we have adhered to biliteracy and trilingualism, constantly optimizing school-based curricula, inspiring children's potential, cultivating virtuousness, enhancing their creativity and exploration ability to lay a good foundation for future primary school. In the days to come, we will still stick to our convictions to do our best to enlighten young children with "love", care and warmth to preschool education.
辦學宗旨及目標 Mission & Vision
宗旨:
本校以培育幼童,提供優質服務為目標,使兒童在德、智、體、群、美各方面有均衡發展,為日後的教育作好準備。
使命:
建造一個安全清潔的環境,讓兒童快樂地學習。
照顧兒童身心健康成長,保障他們應有的權利。
為延續兒童對學習的興趣,我們會給孩子愉快的學習經驗。
目標:
培養兒童良好的生活習慣,學習解決問題和思考的能力。
培養兒童喜歡閱讀,並知道閱讀是尋求知識的重要途徑。
兒童來自不同家庭,能力各異,我們希望見到孩子天天有進步。
營造開放和諧的工作氣氛,讓教職員各展所長,群策群力,提高教學質素。
Nurture young children and provide quality service is our goal. To enable young children to achieve balanced development in morals, intellect, physical fitness, social skills and aesthetics to prepare for future education.
Build a safe and clean environment for children to learn happily.
Take care of children's physical and mental health and protect their rights.
In order to continue children's interest in learning, we will give children a pleasant learning experience.
Children's good living habits and learning to solve problems and thinking.
Cultivate children to like reading and let them know that reading is an important way to seek knowledge.
Children come from different families and have different abilities. We hope to see children make progress every day.
Create an open and harmonious working atmosphere, allowing faculty and staff to show their strengths, team work and improve teaching quality.
我們的團隊 Our Team
我們的董事局成員由社會專業人士組成,包括了太平紳士、大律師、大學講師及資深幼兒教育工作者。
我們擁有一支穩健資深的教育團隊,校長、外籍教師、普通話教師及常額教師均為註冊合格老師,超過一半老師已獲取學士學位或以上學歷,本校老師更獲多屆敬師運動委員會頒發表揚狀嘉許。
Our board of directors is composed of social professionals, including justices of the peace, barristers, university lecturers and senior early childhood educators.
We have a stable and experienced education team. The principal, foreign teachers, Mandarin teachers and regular teachers are all registered qualified teachers. More than half of the teachers have obtained a bachelor's degree or above. Teachers of our school have also been awarded certificates of commendation by Committee on Respect Our Teachers Campaign for many years.